So the sites still broke. The backup template's MIA, I'm still looking for it but I'm thinking I'll end up redoing it all. =/ Blah.
I've actually been thinking to go to a different blog system, maybe Xanga since a paid account comes with the web server package we buy. That way I'd be hosting it as well. *shrug*
Some new stuff...
Lichen Symphony Scarf
- (Pattern coming) - This was a fun but simple knit project made out of Red Heart's super soft and fuzzy Symphony yarn. It was worked up on big needles so the stitches are big and airy but this scarf is still incredibly warm. =)
Red Mesh Hearts Tote -
I made this a while back but didn't have a camera to take pics of it. I generally use it to drag my WIP to Open Stitch. I've been getting a lot of compliments on it so I figured I'd show it off here. =)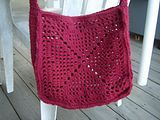 I finally got pics of all my Blue Squares goodies, I'll post them when they've been resized to something reasonable (versus the 2000+px the camera takes them at, hehe).
And for the craziest news of the week...
I've been nominated for President of our Stitch'N Club! I was floored when I received the email. Now I have to work up a Bio and all that good jazz for the vote on Dec. 16th.