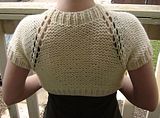 Finished this a couple of weeks ago but just got around to uploading pics. Probably not the best dress to pair it with according to my husband, lol. Said it gave me a decidedly "frau" look...
Materials: #13 Circular Needles and 2 skeins of Bernat's Softee Chunky (which is both... soft and chunky )
I found the pattern on Craftster, I'll post the link as soon as I can find it. I made a few small changes to the original pattern, adding a few more rows to the sleeves and working them in the round.
I'm thinking to make another one in black since it only took a couple nights to finish. And I've got a new addiction in sweaters that are worked from the top down... They're awesome, you can try them on as you work on them and you don't have to worry about seams after it's done. Just weave in your ends and ta-da!
Oh and did I mention this cute lil' thing is reversible?? I've worn it both ways, though I think the reserve stockinette side is my favorite.