This is indeed the question. I made this sweet lil' baby dress for a co-workers new baby girl and when I asked someone that had seen the baby recently (in real life not just pics) they said it was too small for her already. =( I guess she's big for her age and she's got her daddy's mile long legs, heh.
Here it is: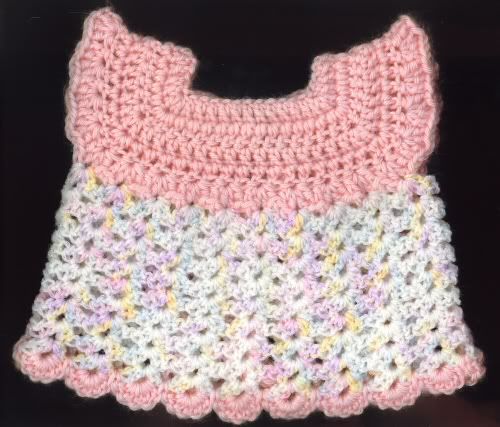 *Click to see the full version*
I used
Caron Simple Soft
in Soft Pink and
Jamie Pompadour
in Candy Print, my sweetie, Hash, actually helped me pick out the colors and textures!
Awwwwwww
=P
It's not completely "finished" it was suppose to have a lil' flower in the center of the yolk but now that I'm finding out she won't be able to wear it I find myself caught between frogging it or finishing it and saving it for 3-5 years when Hash and I decided to start with the making of the babies, heh. It just looks too cute to tear apart!!
I've got more then enough yarn left over so I'm thinking to make my friend's baby a blanket instead since those are basicially one size fits most, LOL.
Catana
made a post about people hating the Single Crochet stitch and how there's so little you can do with it. I was quick to let her know this is one of my favorite stitches and you can in fact do it in a dozen variations! (ME opinionated?!? Never! hahah)
So to help others learn about these cool and simple tweaks to a common stitch I've started working up swatches and instructions. I'll be posting them here as they are completed. =) I hope they're helpful and that you enjoy them so stay tuned!