I've felt uber lazy this weekend but I managed to get a couple small things done. =)
I don't know if it's because I'm half Irish but I've always been fasinated by anything Irish and Celtic. Once upon a time I had plans to attend art school in Ireland. Unfortunately I could never scrape together enough funds even with grants and loans.
*sigh*
I still want to visit there one day, so does Hash. And I'm half certain once we get there we'll end up calling my mom or my in-laws telling them,
"Hey! Yea we're gonna stay here. Do us a favor? Sell all our shit and Western Union us the cash. Okaythanksbye."
So this weekend I made a cute lil' bag with some kelly green and cream yarn out of clover shapes. I'm very happy with how this turned out! =D
Clover Bag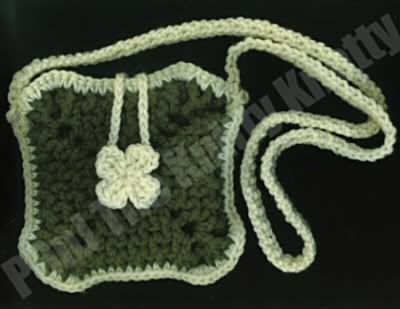 And I was just playing around but I came up with a lil' Celtic Knot. I've always enjoy drawing Celtic Knots so it was a lot of fun making one of yarn, heh.
Celtic Knot