...for the best Secret Pal ever... I'm sure mine would win! LOL
I got a wonderful, mavelous package from my Secret Pal today! First I was sent an e-card saying the package should be here today... so I had to sit all work half the day just thinking about it!! Argh! LOL
My super cool package included (ugh I realllllly need a digi-cam):
2 skiens of Caron Simply Soft Brites in LimeLight and Grape (See examples
here
)
2 black ink pen with cute lil' froggies on them!
4 turtle soaps (handmade by my SP)
3 froggie soaps (also handmade by my SP!)
A nice lil' note card (and yes all this green definately cheered me up!!)
AND
This awesome lil' bag: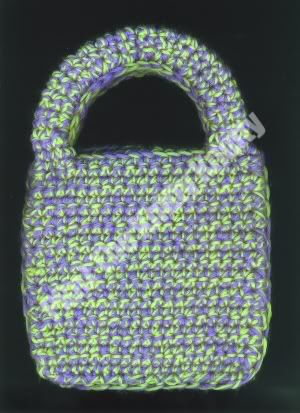 My scanner really jacked up the colors, I try to adjust them as best I could. The purple looks a lil' too blue in the pic. I love it!! It's very strudy and I love the nice thick handles.
Thank you Secret Pal!!
I received a second RAOK postcard today too!
Here's the first postcard I received, this ones from someone in California:
Here's the second postcard I received, this ones from
Moze
in Florida: